About Hank Snow
He has been elected to eight different Halls of Fame, including the Country Music Hall of Fame of the United States of America (1979), The Songwriters Hall of Fame, the Canadian Country Music Hall of fame and the Nova Scotia Music Hall of Fame. He also was voted Canada's top country performer ten times.
When he was sixty-one, he had the hit song "Hello Love" and thus holds the record of being the oldest country performer ever to have a number one hit.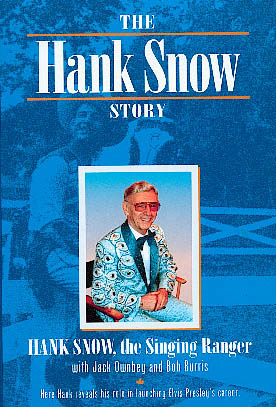 Prime Minister Trudeau and President Carter, as well as a number of state Governors and Premier Buchanan (NS) honoured Mr. Snow at various times. In May 1994 he received an Honourary Doctorate of Letters Degree from St. Mary's University, Halifax, Nova Scotia.
Hank Snow passed away 12:18 am, December 20, 1999 at his home in Madison, TN at the age of 85.
Hank's widow, Minnie Snow, passes away May 12 of Pneumonia at age 89.

His biography, "The Hank Snow Story", is a personal record of the difficulties of his early years, his rise to success and his participation in a number of remarkable events.
(Available in our on-line catalogue.)

To read more about Hank's passing click on the following links: